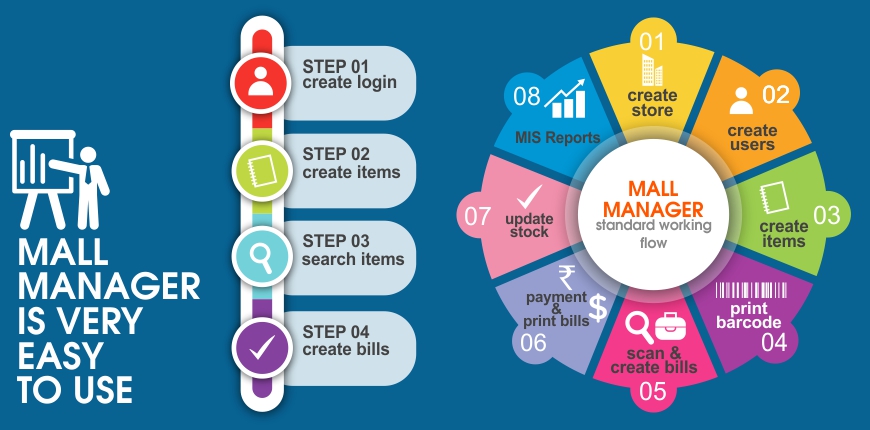 MALL MANAGER
Point of Sale Software / GST Ready Billing Software
At MITS Infotech, we provide informative and quality retail automation services for all kinds of retail stores. We ensure that you get the best of retail management solutions that controls sales in a convenient and organized way ensuring that the problems around time wastage and cost are minimized. An example of this product is the Mall Management software; this controls all retail activities from sales to calculations thereby making the duties of the Mall Manager easier and less stressful. This amazing software has many functions and features which include creation of reports, upgradeable to user's requirements and many more. In all, it is a superb piece of software that will assist managers in carrying out their duties accurately and effectively. We offer advanced security features to our clients. We provide retail automation solutions to various kinds of business such as Garment Store, Handicraft Store, Departmental Store, Super Store, Masala Store, Electronic Goods Store, Home Decor Showroom, Medical Store, Restaurant, Gift Article Store, Traders, Whole sellers and any retail outlet. With Mits Infotech, your retail process and business reputation is secured.
KEY FEATURES
Inventory Management System
Purchase Management System
Sales Management System
Barcode Management System
Customer Management System
Scheme Management System
Loyalty Card Management System
Gift Voucher Management System
Account Management System
Email – SMS Management System
Expense Management System
Reporting System
ADVANTAGES
Managing Multiple Locations
Enterprise class software
Centrally reporting system
Versatile/robust reporting
User level security
Flexible and user friendly
Auto Backup features to keep the data safe.
We focuses on crafting the best user experience possible.
Updates and new features regularly added
Excellent after sales service
Fast and affordable solution