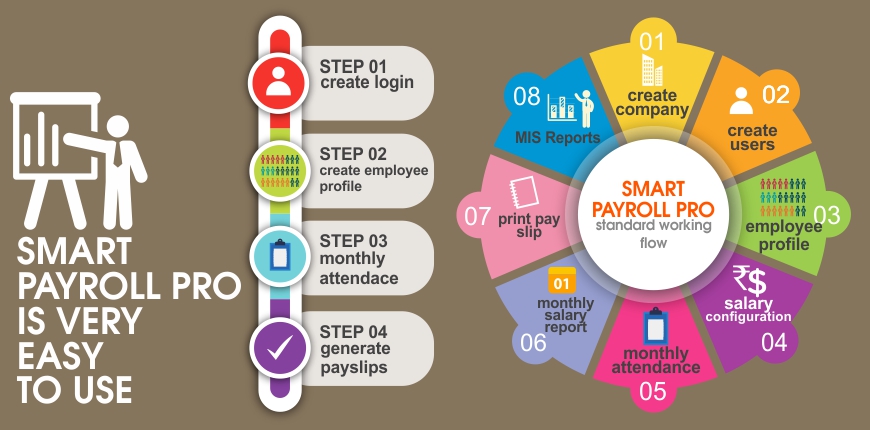 SMART PAYROLL PRO
Salary / Payroll Management Software
At MITS Infotech, we offer modern payroll solutions to our clients. We recommend this solution to industries, companies, factories, traders, manufacturers, retailers, educational institution, hospitals, hotels, staffing & contractors & many more so as to eliminate the stress of drafting payroll documentation which consumes significant amounts of time and energy. The salary management software takes care of workers' and employee salaries and it generates the employees' payroll at the end of each month. Once the employee details have been captured; viola, the payroll is generated without hassle. This wonderful software also provides all other documentation to support the payroll such as payment statements, payment slips, wages reports, attendance reports, MIS reports & many more.
KEY FEATURES
Salary Management System
Employee Management System
Employee level applicability for PF, PT, ESI
Loan / Advance Salary Management
Leave Management System
Letter Management (Pre-define letters)
Bonus & Incentive Management System
Full & Final Settlement System
Attendance Management System
Reporting System
ADVANTAGES
User level Security.
Enterprise Class Software.
Versatile and Robust Reporting.
Our design focuses on creating the best user experience possible.
Flexible and User Friendly.
Auto Backup features to keep the data safe.
Fast and Affordable Solution.
Updates and new features regularly added
Excellent after sales service.